FACULTAD DE INGENIERÍA Y CIENCIAS EXACTAS
Una sólida formación básica, que equilibra conocimientos científicos, tecnológicos y de gestión.
En UADE ofrecemos carreras de ingeniería con características distintivas que me gustaría destacar.
Preparamos profesionales con un balance equilibrado de conocimientos científicos, tecnológicos y de gestión, que les permitirán adaptarse al mundo cambiante en que ya vivimos. Las ingenierías modernas no pretenden transmitir a los egresados todos los conocimientos que les harán falta -ya que eso es imposible-, sino una sólida formación básica que les posibilite reentrenarse y capacitarse con facilidad. Hemos orientado en este sentido todos los planes de estudios de UADE.
Otro aspecto importante, es que ofrecemos cursar todas las materias en la misma banda horaria -a la mañana o a la noche-, lo que permite a nuestros alumnos trabajar y, de esa manera, insertarse más fácilmente en el mercado laboral. Para ayudarlos, ofrecemos también nuestro servicio de pasantías, en el que contamos con acuerdos con más de 500 empresas.
Por otra parte, contamos con la mejor infraestructura: una biblioteca de 50.000 ejemplares a disposición de los alumnos; laboratorios propios de física, química, microbiología, electrónica, electrotecnia, termodinámica, fluidodinámica y aulas informáticas donde nunca hay más de dos alumnos por computadora.
Tenemos docentes de dedicación exclusiva, incluyendo investigadores en temas de punta, lo que nos permite estar al corriente de los últimos desarrollos.
Finalmente, quiero mencionar la posibilidad de desarrollarse integralmente, practicando deportes, participando de nuestros grupos de teatro, del coro o disfrutando de la infraestructura del Club de Alumnos.
Por esas y otras razones, te invito a que vengas y conozcas nuestra Universidad para que puedas tomar una decisión con la mayor información posible.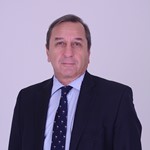 Ing. Juan Pedro Irigoin
Decano
Seminarios CUNY - UADE
Gracias a una alianza entre Fundación UADE y Baruch College - The City University of New York (CUNY), de Estados Unidos de América, por tercer año consecutivo nuestros alumnos reciben clases en Argentina de renombrados speakers de CUNY.

Para informes e inscripción,
escribinos por WhatsApp al +54 9 11 6812-6529.